Chiropractic, Acupuncture & Nutrition
K~CANN Pittsburgh Chiropractors
2415 Sarah St
Pittsburgh, Pa 15203
412-381-4453
Exactly how long does it take? With all the ground breaking methods of spinal correction which we developed, the majority of our patients can easily see noticeable improvement in their core foundation in a really short period of time. Utilizing our customized treatment approaches the patient pictured to the right of this page was able to make the remarkable improvements you observe within four appointments. In reality, we anticipate obvious enhancement in our patients around the first four visits. So when you determine to become a patient in our office, be prepared to be seen 4 times within the first week. You must also be prepared to feel much better and see apparent improvement with your spinal core in this time frame.
Exactly what occurs following the Fourth visit? Following four sessions i will be capable of ranking you as either a rapid responder or perhaps a non-rapid responder. Fortunately nearly all of our patients fall under the rapid responder classification. Rapid responders generally tend to be feeling far better and show noticeable improvement within their spinal core after just Four treatment sessions. That does not suggest they are entirely well after Four appointments, simply they detect considerable improvement. This means they may have a reduced amount pain and their spinal structure has shifted in the direction of normal.

Research studies have established the "most effective dose" of chiropractic treatment leading to optimum improvement with regard to patients who have been in pain. The scientific studies claim that patients ought to be treated 12-16 times within the 1st 30 days of treatment. This particular dose of chiropractic care results in far more patients improving along with increased improvement compared to any other routine of treatment.
Figure 12. Before a permanent correction is possible, the spinal ligaments must be remodeled into their new shape.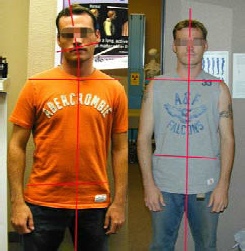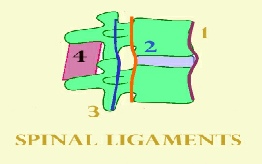 Figure 13: The main ligaments of the spine are 1. the anterior longitudinal ligament, 2. the posterior longitudinal ligament, 3. the ligamentum flavum and 4. The interspinous ligament. These structures must be remolded for long term postural change can take place.

Rapid alignment of abnormal spinal structure is often possible with the spinal correction techniques we pioneered